Help Your Kids Find Their Own Personal Style
2017-03-30
As soon as children start showing other signs of individuality, they'll demonstrate preferences for particular colors, patterns and motifs. Give kids some room to engage with those natural affinities, and their style will further evolve.
Don't worry if your kids are already past the point of self-sufficiency when you first set out to help them develop a sense of style; just start where they are.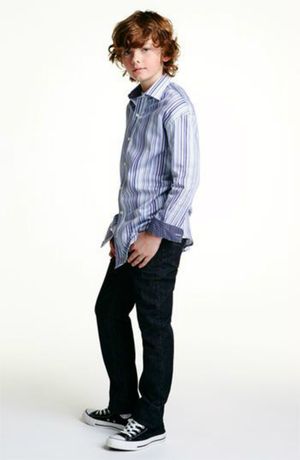 Give kids Confidence to their Activities
Kids allowed to dress themselves will develop a sense of accomplishment that will encourage them to keep at it. Before long they'll have mastered the basics.
The physical process of getting dressed will also build motor skills. Set the stage for success with easy pull-ons for everyday, and give plenty of time to practice when there's less pressure to get out the door.
Encourage dress-up play, and stay hands-off when it comes to all those wardrobe changes. Your kids will develop creative methods of securing sashes and capes early on, and the bridge to tying shoelaces won't be so shaky.


Talk About the Art of Fashion
As your son grows more aware of how colors play off each other, begin pointing out complementary colors and values. Recognize his successes, and be specific with your praise.
For lessons that last, integrate fashion advice with other learning. If your daughter is studying symmetry in art, talk about balance and proportion in dressing. Note how a full skirt looks great with a fitted top, but less pleasing with a bulky sweater. This early education could prevent her from falling into the teen trap of pairing tight with tighter.



Enhance Features and Boost Esteem
Teaching kids to accentuate assets when they're young will help set the stage for later discussions. Also point out differences, like colors that complement your daughter's complexion but wash out your own.
These conversations will make it easier to one day discuss how best to dress for body proportions, and consider any shape as a feature to be flattered instead of a flaw to work around.


Establish Boundaries
Make it clear that there are times when you will be the deciding factor on what is worn outside the house. Consider giving kids free rein most of the time, as long as the clothing is age and weather appropriate. You may cringe to see them walk out the door looking short of your style ideal, but those are often the outfits they're most proud of.
For occasions when you have something in mind for your daughter to wear, try presenting a few acceptable options. She makes the final call, but you would be happy with any of them.


Take Notes of Fashion Trends
Get a feel for current styles the kids in your area are wearing. Sampling trends is a fun way to explore the boundaries of personal style. If your daughter doesn't have a strong sense of style yet, being aware of what's in fashion may help her feel more comfortable in her social environment, whether she chooses to blend in or stand out.


Seek style Inspiration
Pick a few magazine pages, catalogs or websites with clothes you approve of and share them with your kids. Sit down one-on-one, so there's no swaying of opinions. See what they're drawn to. You may discover that your four-year-old has a penchant for 80s' punk, or that your tween's fashion muse is Grace Kelly.
Source:About style