Hair Style for Bridesmaid
2016-05-31
Has your kid been invited to be a bridesmaid? Relax, we'll help you!
We know that the bridesmaids, in addition to bring grace to the ceremony, are about to announce a special bride's entrance, with all attention focused on them.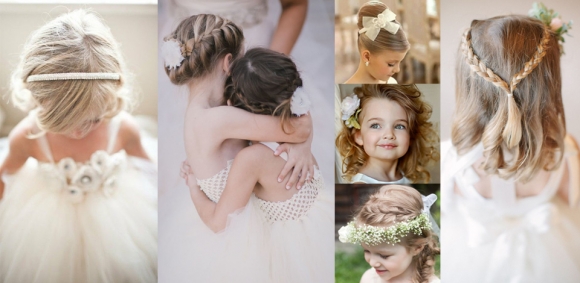 But, despite the fact that your kid is going to have a huge role in such an important moment, you should be prepared to make this moment a pleasant one for them.
Tip: Prefer less complex hairstyles so that the child does not spend much time in the saloon. Look for lighter accessories and that do not hurt their scalp.
The hairstyle depends on the occasion, the environment, the dress, and of course, the bride's style and even the mother's. Again, this is the last detail to decide, since it depends on all other factors.
Options of hairstyle:
___________________________________________
Braids are super acceptable for both night and for the day, in details, whether loose or all over the hair.
Weddings in the beach, field or indoors.

Buns are a good option for evening parties. The hairstyle of a true princess. Low or high, you can you play with the hair… Glamorous!

Loose hair matches sunny days! Bet on the wide waves with accessories to complement. Wreaths are welcomed to a beautiful beachy altar and a cleaner and pleasant look.

How do you like the inspirations? Talk to the bride and find the best hairstyle for your children, so they can brighten the party!
resource: fashionkids