Former Nike designer launches new clothing collection for kids
2015-09-25
Former Nike designer launches new clothing collection for kids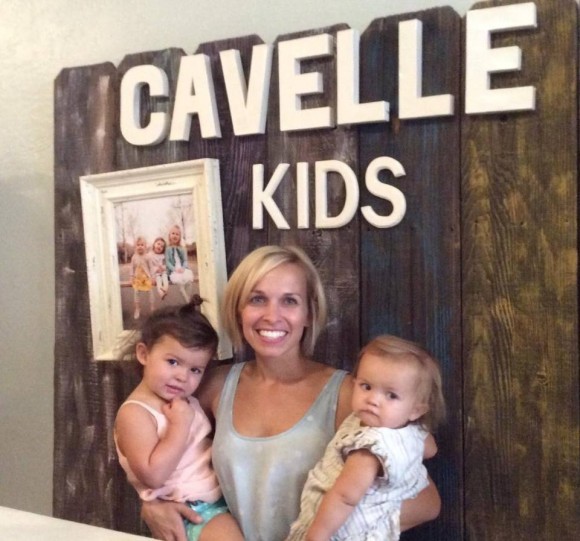 Cavelle Kids owner Jessica Elrod just couldn't stop designing.
The 32-year-old worked for Nike designing women's athletic apparel from 2006 to 2008, when she had to quit her job because of a move to Europe.
Cavelle Kids' Huntsman Hoodie comes in mocha and navy and has a plaid hood detail. Elrod enjoys combing different textures and fabrics in her designs.
"My husband went into the military," Elrod said, which took the two of them to a small town in southern Germany for two years. While Elrod's husband left the military two years ago, initially Elrod expected to be moving from city to city with her husband.
"A way for me to keep designing was to open Cavelle Kids," Elrod said.
Cavelle Kids launched its Fall/Winter 2015 collection early this month — a collection of dresses, hoodies, shirts and pants designed around the theme of Snow White.
"Every season, I do a fairytale," Elrod said. Past collections have been inspired by Jack and the Beanstalk and Alice in Wonderland.
When Elrod designs, she always tries to make the kids themselves the center of attention rather than the clothes they're wearing.
"I like little details and super soft fabrics and things like that but I want when you look at a kid, you see just a fun, playful kid," Elrod said, "You see them and not just a crazy outfit."
"I want to take the simplicity of a garment but just make beautiful details in it," Elrod said.
The name of her business comes from a Yiddish word, kvell, which is loosely translated as being extraordinarily proud or delighted.
Cavelle Kids clothing includes many subtle design details.
"I love different textures," Elrod said. "So in one garment, I might have five different fabrics."
Elrod's favorite piece from the Snow White collection is the Little Princess Dress, which has lace sleeves and an open back detail.
When sourcing fabrics for her line, Elrod's priority is that they be soft and machine-washable.
"No mom wants to take their child's clothes to the dry cleaner," Elrod said. "Everything is washable, except for this one season when I did a wool coat."
Lacy Fullmer, a longtime friend of Elrod's who also helps run the Clovis storefront, has appreciated Elrod's choice of fabrics.
"For instance, my daughter doesn't wear denim — she doesn't like the feel of it," Fullmer said, but Cavelle Kids clothing is soft and comfortable for her.
"What's so fun being here is that I can get a lot of the local talent to help me," Elrod said.
Local photographer Cori Derksen shot the catalog for the Snow White collection and used many local kids as models.
"I typically specialize the majority of my business in newborn and children and family photography and I really enjoyed doing more of the creative stuff with Jessica," Derksen said. "It's along the lines of what my business was, but with just a little twist."
There are two parts to Elrod's business: a retail storefront at 623 4th St. in Old Town Clovis, and a wholesale business that distributes Cavelle Kids clothing to boutiques across the country.
"I mainly am wholesale," Elrod said. "So I design everything locally and it's all produced in the U.S. too."
After Elrod has approved a design, the garments are produced in Washington.
"It's really hard," Elrod said of her effort to keep production in the U.S.
Elrod estimates her per unit cost would be one-eighth of her current cost were she to move production overseas.
"It's a gamble, but a lot of people are wanting to buy U.S.-made," Elrod said.
Cavelle Kids began as a wholesale business in 2012 and held a launch party and fashion show in January of that year to showcase Elrod's designs.
The retail storefront opened in March 2014 in Old Town on 4th Street near Clovis Avenue.
"Each season I order a little bit extra when I produce," Elrod said, "That way, the other boutiques that buy from me can get an immediate order if they sell out of something."
"It's kind of hard to figure out how much you need to produce of each one because you just don't know how well it will sell," Elrod said.
When Elrod ended up with extra inventory, she decided it was time to fulfill a long-time goal of hers and open up her own store.
Cavelle Kids has continued to expand its distribution. In August, Elrod sent her first shipment to a boutique in the United Kingdom.
Sales representatives for Cavelle Kids in Los Angeles, Dallas and New York sell the line to boutiques as far away as Kuwait.
"I design a year in advance," Elrod said, "and then it takes four months or so to produce."
With all the work having to be done so far in advance, Elrod tries to keep up with new trends.
"You're just always looking at things and you want to stay on top of the market," Elrod said, "You think you're doing cutting edge stuff and then you kind of just cross your fingers."
Source: www.fresnobee.com