Now, Nike stores for kids
2015-09-18
Now, Nike stores for kids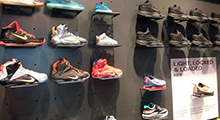 CHILDREN no doubt have special needs, and this stretches to their athletic gear requirements. Sportswear and gear maker Nike had exactly that in mind as it opened its doors of its Young Athletes Stores.
The Nike Young Athletes Stores are the first Nike Youth Stores in the Philippines and in the entire Southeast Asian region. In three months, Nike has opened three young athletes stores, namely at Ayala Fairview Terraces, Ayala Solenad in Nuvali Sta. Rosa and, just this weekend, at the Kidzania Park Triangle Building in Bonificaio Global City, which serves as the flagship store.
Owned and operated by Nike Prodigy, an official retailer of Nike Philippines, the Nike Young Athletes Stores are specifically designed to cater to the athletic gear requirements of children aged zero to 13 years old, with sizes ranging from Infant/Toddler to Pre-school to Grade School.
The stores have the complete youth size product assortment for all major sports and athletic endeavors, with the most advanced basketball, running, football, and sports lifestyle footwear and apparel especially developed for young athletes.
"There has been a clamor for Nike youth sizes here in the country," said Jeremias Posadas, store director for Nike Prodigy, in an interview with BusinessWorld at the sidelines of the Kidzania store launch at last Saturday. "A lot of people have a hard time sourcing smaller sizes for their children for Nike stuff, so much so that they have resorted to asking relatives abroad to buy for them and have the items shipped here. And so because of that big demand, Nike decided to open a store dedicated for young athletes' sizes," he explained.
"I don't have the exact figures but I know for a fact that the Filipinos are one of the younger populations in the world. If you look at our population, the zero- to 13-year-old segment is one of the fastest-growing demographics in the country. And so Nike felt the need to cater to that segment with its products," he added.
Mr. Posadas further said that with the young athletes stores, sporty and active parents can take satisfaction in seeing their kids match what they themselves are wearing.
One parent who is very happy with the arrival of the youth store in the country is Philippine Basketball Association star point guard Mike Cortez of Blackwater Elite who was at the launch.
"Finally there is a store like this here in the country. I have a 13-year-old and nine-year-old and it is so hard for me to find sportswear for them here in the Philippines. We usually have to go to the States to find stuff for them. So now this is open it is a big help finding sportswear for the kids, especially their Dri-Fit stuff as my kids are active," Mr. Cortez told BusinessWorld.
"More Nike Young Athletes Stores will be opening", said Mr. Posadas.
"This is only the beginning. We feel that there are a lot of under served children. We think there are a lot of children who really could use Nike products. We are looking to expanding the Nike Youth Athlete footprint in the Philippines," he said.
*Source: Business World online